TALK SHOW, 2017
TALK SHOW is a performative conference that lets you hear and see the transformed, stopped, reinvented journeys of circus artists. What is the reality of a life of circus? On the set, disappointments, euphoria, frustrations, confessions and opinions are expressed without any taboo, and with lightness. The idea is to make the voice of these artists public. As our lives are made of a succession of failures and successes, circus is here the ideal vector to address questions related to age, obsolescence, evolution, and therefore the success of a turning point in life. The vulnerability of the being and its sincerity take precedence over the physical performance. The magic of prowess gives way to the anti-magic reality of the human condition.
The challenge in this performance lies in the ability to be true, to say everything that one thinks, straightforward, but always with the aim of stimulating a collective thinking. At a time where success is a collective obsession and where recognition at all costs is being glorified, I'd like to show mature artists' bodies and question their value and richness of meaning. (Gaël Santisteva)
TALK SHOW was created on October 19th, 2017 at Les Halles de Schaerbeek (Brussels) and CIRCa festival (Auch, FR) before touring in Belgium and France.
Gaël recently created his second project, Garcimore est mort, that premiered on November 18th, 2021 at Le Manège de Reims (FR).
TALK SHOW - Gaël Santisteva (90', 2017)
Performance: Gaël Santisteva with four of the following artists - Julien Fournier, Angéla Laurier, Marlène Rubinelli, Ali Thabet, Mélissa Von Vépy, Jani Nuutinen, Julien Cassier, Caroline Obin, Olle Strandberg
Music: Sam Serruys
Sounds: Antoine Delagoutte
Artistic advice: Lara Barsacq
Production: Gilbert & Stock
Coproduction: Les Halles de Schaerbeek – Bruxelles, La Verrerie d'Alès / Pôle National Cirque Occitanie, La maison de la culture de Tournai, Centre culturel du Brabant Wallon
Residency: CIRCa pôle national des arts du cirque-Auch, Cie Happés
With the support of Fédération Wallonie-Bruxelles, service du cirque, des arts forains et de la rue
photos © Beniamin Boar, Lara Barsacq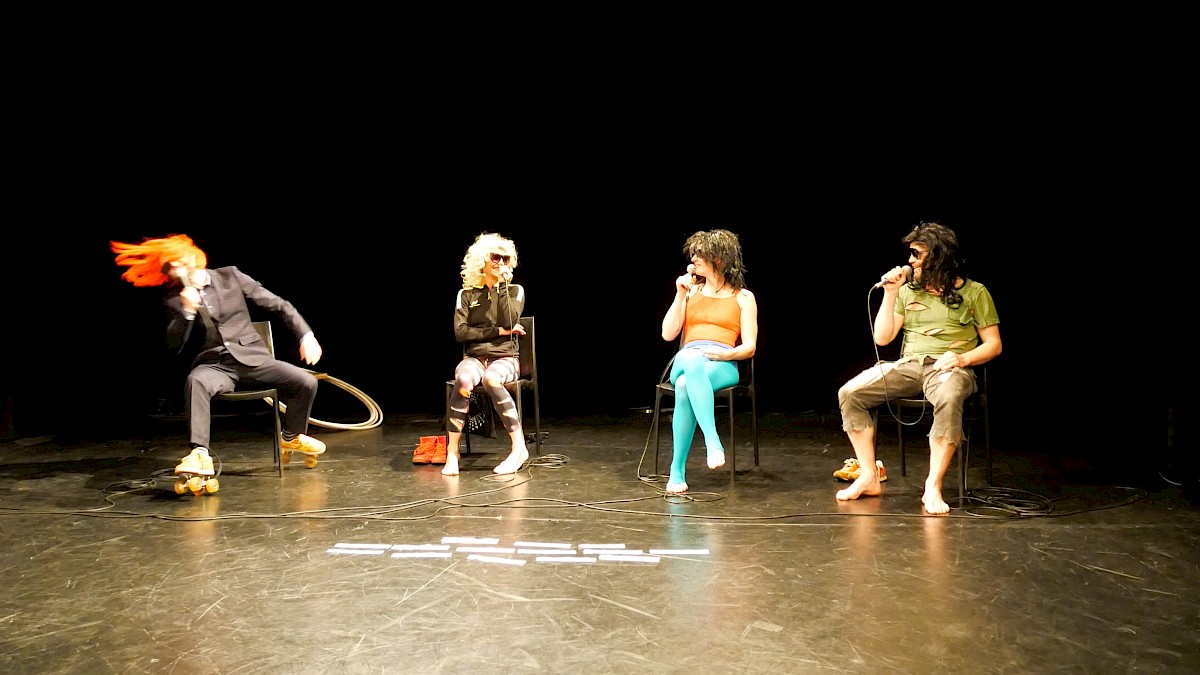 A rare, sensitive work that allows you to grasp the distances and the depths of a voice, the one of the circus artist, added with some fiction and the strange feeling of being immersed in reality. [Talk Show] is all at once: dance, circus, document, marvellous in its sharp humour and the reversals that it implies.
Sylvia Botella, Conférence inaugurale / ESAC, 20.04.2018
While dreaming of his real-fake conference titled "Talk Show", [Gaël Santisteva] wanted to make a show with almost no circus act, but which would reveal what's behind the scenes of a professional life. [ ] The result is great! [ ] Like a catalyst, it reveals (very) closely the scathing personalities of an outstanding quartet. [ ] In a stage-hall exchange integrated in the show or in many overwhelming moments, the love of circus strikes you the most, as well as an ultimately universal questioning about our human time, so human.
Laurent Ancion, Cirq en Capitale, #14, January 2018
This artistic UFO - a true and unpolished exposure - has the brilliance of sincerity, the prettiness of the passage of time, the one that makes people more beautiful and more real. It shows what makes us be in the world through the uniqueness of each story. Unique and universal at the same time. What a feat!
Un bouquin dans la poche, 12.12.2017
"Talk Show": when the magic of the prowess gives way to the more discreet charm of the confession. Neither entirely a conference nor really a show, "Talk Show" has become a spectacular conference. A very free moment of speech in which the vulnerability of the being and its sincerity take precedence over physical performance.
Catherine Makereel, Le Soir, 19.10.2017
Gaël Santisteva questions the body of circus artists, confronted with the harshness of their practice and the passage of time. A circus of words too, which challenges.
Isabelle Plumhans, L'Echo, 17.10.2017
When limited to the single performance, circus is an art form that is limited in time, such as high performance sports. We must dare to put aging bodies on stage. Why should we evacuate the "old"? Their bodies release more questions, gain in depth and express a lot of things. I want to open a breach in the performative aspect of circus, to show that there is brilliance beyond the prowess. (Gaël Santisteva)
Laurent Ancion, Cirq en Capitale, #13, October 2017
Past
14.10.2020, Toulouse (FR)
Théâtre Sorano
13.10.2020, Toulouse (FR)
Théâtre Sorano
25.01.2020, Bègles (FR)
Festival Un chapiteau en hiver
16.01.2020, Gent (BE)
Festival Smells Like Circus, Vooruit / Campo
16.03.2019, Tournai (BE)
Festival La Piste aux Espoirs
23.01.2019, Chambéry (FR)
Théâtre Charles Dullin
22.01.2019, Chambéry (FR)
Théâtre Charles Dullin
08.11.2018, Angers (FR)
Le Quai
07.11.2018, Angers (FR)
Le Quai
06.11.2018, Saint-Herblain (FR)
La Carrière
31.10.2018, Nîmes (FR)
Le Périscope
23.09.2018, Aix-en-Provence (FR)
Festival Jours [et nuits] de cirque(s)
20.04.2018, Bruxelles (BE)
Ecole Supérieure des Arts du Cirque
11.04.2018, Bruxelles (BE)
Festival Hopla, Maison de la Création
24.10.2017, Auch (FR)
Festival CIRCA
23.10.2017, Auch (FR)
Festival CIRCA
20.10.2017, Bruxelles (BE)
Halles de Schaerbeek
19.10.2017, Bruxelles (BE)
Halles de Schaerbeek - PREMIERE