Fruit Tree, 2021
Lara Barsacq is once again turning to the Ballets Russes at the start of the 20th century for inspiration, paying homage to one of its underrated creators, Bronislava Nijinska, who created the choreography for Les Noces to a score by Igor Stravinsky.
Using the art of diversion and poetic digressions, Lara Barsacq takes this story and evokes femininity, rites of passage and the freedom of dancing bodies.
The show is conceived as a ceremony comprising dance, song and stories in paradoxical, joyful and melancholic harmony. A kingdom of sensuality, an ode to nature, Fruit Tree is a call to the power of life
Three women and a man with large hair (sometimes braided) perform rituals, each in turn or together. They move from one stage space to another, performing rituals like taking a walk. They take off in dances inspired by the choreographic writings of Bronislava Nijinska, the art of farandole and they invent ceremonies. They talk about ecofeminism, roots, fruit trees and beliefs in the symbolism of braids and hair, related to the energy that connects humans to the cosmos. They sing a capella a score rewritten in 4 voices using polyphonic rhythms and voices; sometimes they cover a sad song by Nick Drake.
Fruit tree, fruit tree
No one knows you but the rain and the air. (Nick Drake)
After the dyptich Lost in Ballets russes (2018) and IDA don't cry me love (2019), Fruit Tree is Lara Barsacq's third personal project.
Fruit Tree premiered on October 15th & 16th, 2021 in Brussels, in the frame of Biennale de Charleroi danse.
Lara Barsacq is currently working on - La Grande Nymphe (creation 2023) - that will premiere in May 2023, in Brussels.
Fruit Tree - A project by Lara Barsacq (70', 2021)
Creation and performance: Marta Capaccioli, Marion Sage, Carlos Garbin, Sue-Yeon Youn
Artistic advices: Gaël Santisteva
Set design and costumes: Sofie Durnez
Light design: Kurt Lefevre
Sound: Benoit Pelé
Vocal coaching: Jean-Baptiste Veyret-Logerias
Music: Nick Drake, Igor Stravinsky
Original music score: Gaël Santisteva, Carlos Garbin with the performers
Technical direction: Emma Laroche
Administration & production: Myriam Chekhemani
Communication & distribution: Quentin Legrand - Rue Branly
Production: Gilbert & Stock
Coproduction: Charleroi danse - Centre Chorégraphique de la Fédération Wallonie-Bruxelles, Les Brigittines, Théâtre de Liège (BE), Centre Chorégraphique National d'Orléans, Atelier de Paris / CDCN, La Manufacture CDCN Nouvelle-Aquitaine Bordeaux • La Rochelle (FR)
Residency partners: Charleroi Danse, Grand Studio, La Bellone, Arts Center Buda (BE), POLE-SUD, CDCN Strasbourg, CCN/Ballet de l'Opéra national du Rhin, Strasbourg, Centre Chorégraphique National d'Orléans (FR)
With the support of Fédération Wallonie-Bruxelles — Service de la danse, Wallonie-Bruxelles International, Grand Studio and Réseau Grand Luxe
Photos © Stanislav Dobak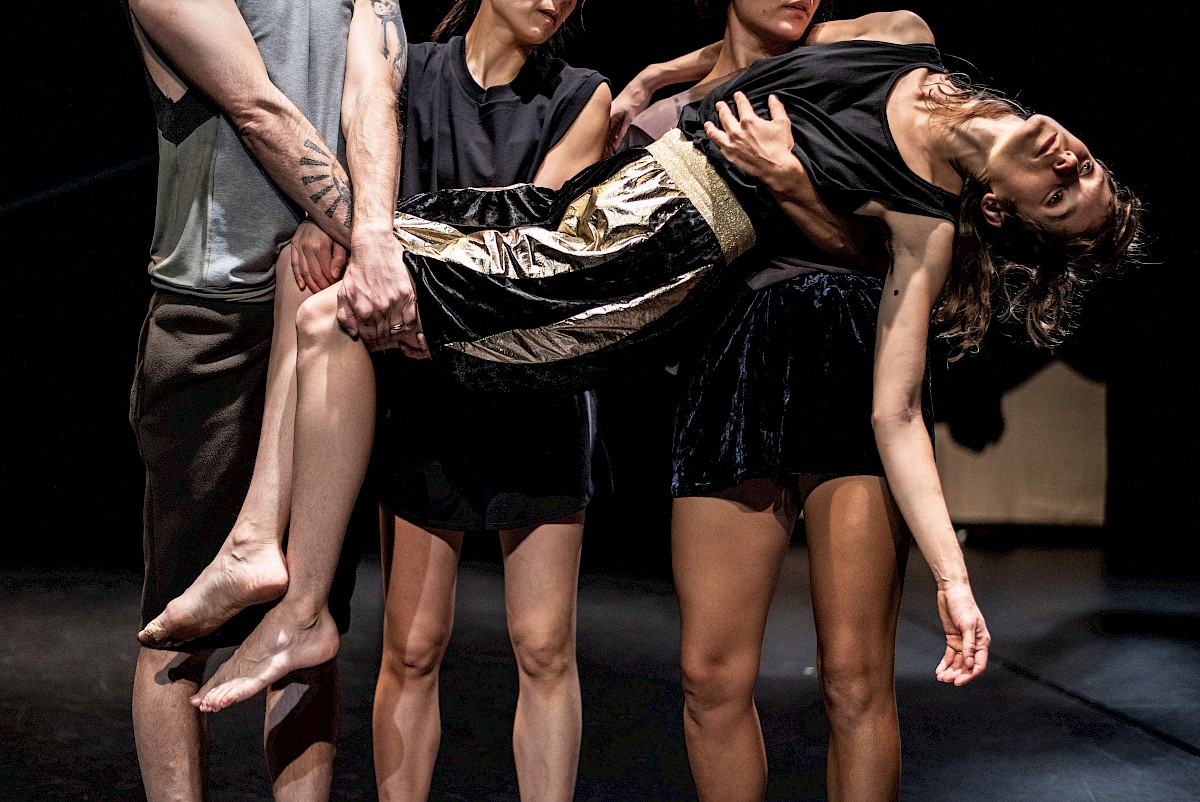 Is ecofeminism soluble in the history of dance? Can a dance piece by Anne Teresa de Keersmaeker resonate with Bronislava Nijinska? We can guess that the answer is in the affirmative, because if Fruit Tree there is, it is because Lara Barsacq was able to fruitfully interweave two apparently contradictory branches of the family tree of dance, namely Noces by Nijinska and the universe of the founder of Rosas company. (...) The radical ecofeminism of Fruit Tree gives birth to a free, fruitful and firmly rooted choreographic language.
Thomas Hahn, Danser Canal historique, 11.12.21

In Fruit Tree, we want women's bodies to be free and emancipated from all social and patriarchal pressure.
Interview with Amélie Blaustein Niddam, Toute la Culture, 08.11.21

Lara Barsacq is paying homage to (Bronislava) Nijinska with Fruit Tree. A gentle piece that contributes to the rehabilitation of women's work in the history of art. (…) The four dancers on the stage reactivate one of her masterpieces: Les Noces, a 1923 ballet, with striking modernity. They ardently unfold this dance, bringing out its solemn and sacred dimension, with an almost melodramatic expressiveness (…). These moments of intense dance are punctuated by quieter passages where, sitting in a circle, they talk and play the guitar. With softness and fluidity, the music unfolds as in a curve, marking a beautiful contrast with the fervor of the exalted dance passages, performed to the energized music of Stravinsky. Finally, the dancers take turns citing the names of important women around them: another way, just as sensitive as the incarnation of Nijinska's dances, to rehabilitate women and the feminine in our history.
Belinda Mathieu, Mouvement, 27.10.21

The choreographer and dancer (here off stage) is inspired this time by the figure of Bronislava Nijinska and the ballet Les Noces by Igor Stravinsky to install one of these didactic and poetic worlds, of which she has the secret. (…) Reproducing the original ballet in extrapolation of its codes and themes, Fruit Tree celebrates the living, dares clichés and foils them all at the same time. All in sincere joy, a sensuality tinged with melancholy and punctuated with humor, articulated with a keen sense of composition.
Marie Baudet, La Libre, 18.10.21

Lara Barsacq continues to shed light on parts of history and on eclipsed personalities. (...) For her new show Fruit Tree, the choreographer looked at another woman linked to the Ballets Russes: Bronislava Nijinska. (...) Inspired, in particular, by books on ecofeminism, Lara Barsacq delivers her own version of Les Noces, with four performers. "This time, I'm not on stage, but there is a state of mind, my way of being. A kind of nonchalance, passing from one thing to another, being as comfortable in dancing as in speaking and singing, in a form of freedom."
Estelle Spoto, Le Vif, 13.10.21
Upcoming
27.01.2024, Barcelona (ES)
Mercat de les flors
28.01.2024, Barcelona (ES)
Mercat de les flors
Past
17.08.2023, Bassano del Grappa (IT)
B. Motion, OperaEstate, Teatro Remondini
06.04.2023, Freiburg (DE)
Theater Freiburg
19.03.2022, Bruxelles (BE)
In Movement, Les Brigittines - (cancelled)
18.03.2022, Bruxelles (BE)
In Movement, Les Brigittines - (cancelled)
17.03.2022, Bruxelles (BE)
In Movement, Les Brigittines - (cancelled)
25.02.2022, Brugge (BE)
(B)its of Dance, Theaterzaal Biekorf
12.02.2022, Liège (BE)
Pays de Danses, Théâtre de Liège
11.02.2022, Liège (BE)
Pays de Danses, Théâtre de Liège
16.12.2021, Bordeaux (FR)
La Manufacture CDCN Nouvelle-Aquitaine
27.11.2021, Paris (FR)
Atelier de Paris / CDCN
26.11.2021, Paris (FR)
Atelier de Paris / CDCN
16.10.2021, Bruxelles (BE)
Biennale de Charleroi Danse, La Raffinerie
15.10.2021, Bruxelles (BE)
Biennale de Charleroi Danse, La Raffinerie - PREMIERE